Visionary Leadership and Naysayers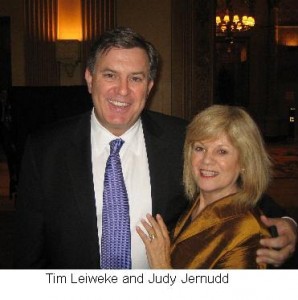 If you look up energy, vision and vitality, you'll find LA's Tim Leiweke, President and CEO of AEG global sports, music and film entertainment.
One look at LA's downtown skyline and you know "The Times They Are a-Changin.'" Staples Center, home to the Los Angeles Lakers, Los Angeles Clippers and Los Angeles Kings, led the way. With the addition of LA Live, the new Ritz Carlton and J.W. Marriott hotels, downtown LA has a brand new vibe.
What's impressive about Mr. Lieweke's leadership and the behemoth AEG, they've accomplished what naysayers said, impossible, it can't be done.  No wonder their vision is a reality given AEG's success record and bankroll. Plus Mr. Leiweke's leadership, drive, passion and determination. What you get is a winning combination.
When he delivers a speech, he's into it. Direct, motivational and irreverent enough to show his likable personality.
Gold Star Actions: Attention CEOs, leaders and politicians. Influence is about emotion. Show some, connect with your audience, let them get an insight to who you are and don't make it too hard for them to like you. You'll be amazed how it can turn your visions into successful realities.